Our Services
Social Welfare Services
Jockey Club Long COVID Community Support Services
Jockey Club Long COVID Community Support Services
In response to some recovered patients are still affecting the symptoms of fatigue, shortness of breath, cognitive dysfunctions, insomnia, and impacts of daily functioning. Our agency was presently to receive the donation from The Hong Kong Jockey Club Charities Trust, to implement the pilot programme 'Jockey Club Long COVID Community Support Services', aims to support the recovered COVID patients for rehabilitation needs in the community and provide comprehensive rehabilitation program.
Service Content
To adopt the case management approach for providing multidisciplinary intervention that includes 3 main services such as medical service (General practitioner, Traditional Chinese Medicine or Acupuncture); rehabilitative service (Nutritional guidance, Occupational therapy, physical therapy or speech therapy); psycho-social support service (Counselling service and supporting service from social workers). Our case managers will co-operate with recovered patients for developing a rehabilitation plan of not more than 12 weeks, which is free of charge.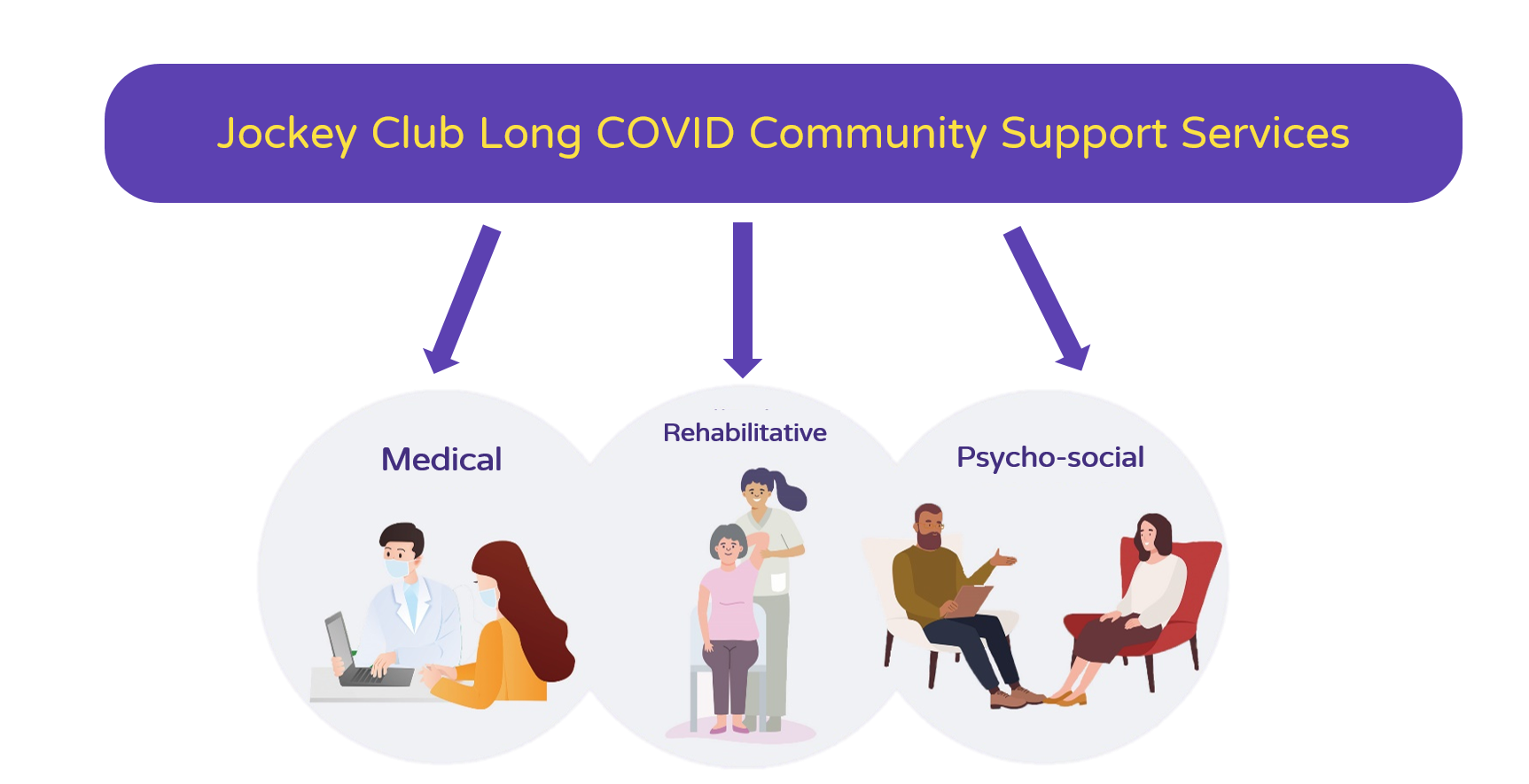 Target Group: Recovered COVID patients who are living or working in Yau Tsim Mong, Kowloon City and Wong Tai Sin District
(Priority will be given to vulnerable groups: e.g. recipients of Comprehensive Social Security Assistance; families eligible for School Textbook Assistance; or residents in public housing)
Eligibility Requirement: (meet all 3 requirements at below)
Confirmed with COVID-19 and recovered (i.e. tested positive through Government-recognized testing bodies using RT-PCR; or declared at DH "Declaration System for Individuals Tested Positive for COVID-19 Using Rapid Antigen Test");
Suffered from long COVID (i.e. within nine months from confirming COVID-19 infection); long COVID will appear usually within three months from the onset of COVID-19 with symptoms and effects that last for at least two months.
Never participated in the Special Chinese Medicine Out-patient Programme for Discharged COVID-19 Patients provided by the Hospital Authority.
Duration of the Programme: 1 September 2022 to 31 August 2023
(Application Period from now to 31 May 2023)
Fee: Free of charge (first-come first-served basis due to limited quota)
Enquiry and Enrollment Form: https://forms.gle/Rbys92WRbGXKK4EH7
Contact Us
Contact Number: 2272 9891
Fax Number: 2718 4634
WhatsApp Number: 6208 7781 (Yau Tsim Mong District) /
6477 3890 (Kowloon City and Wong Tai Sin District)
Email Address: jclc@loksintong.org
Contact Address: 61 Lung Kong Road, Kowloon City
Office Hours: 09:00-13:00; 14:00-18:00 (Mon-Fri)